TOUR DE ECHELON 2021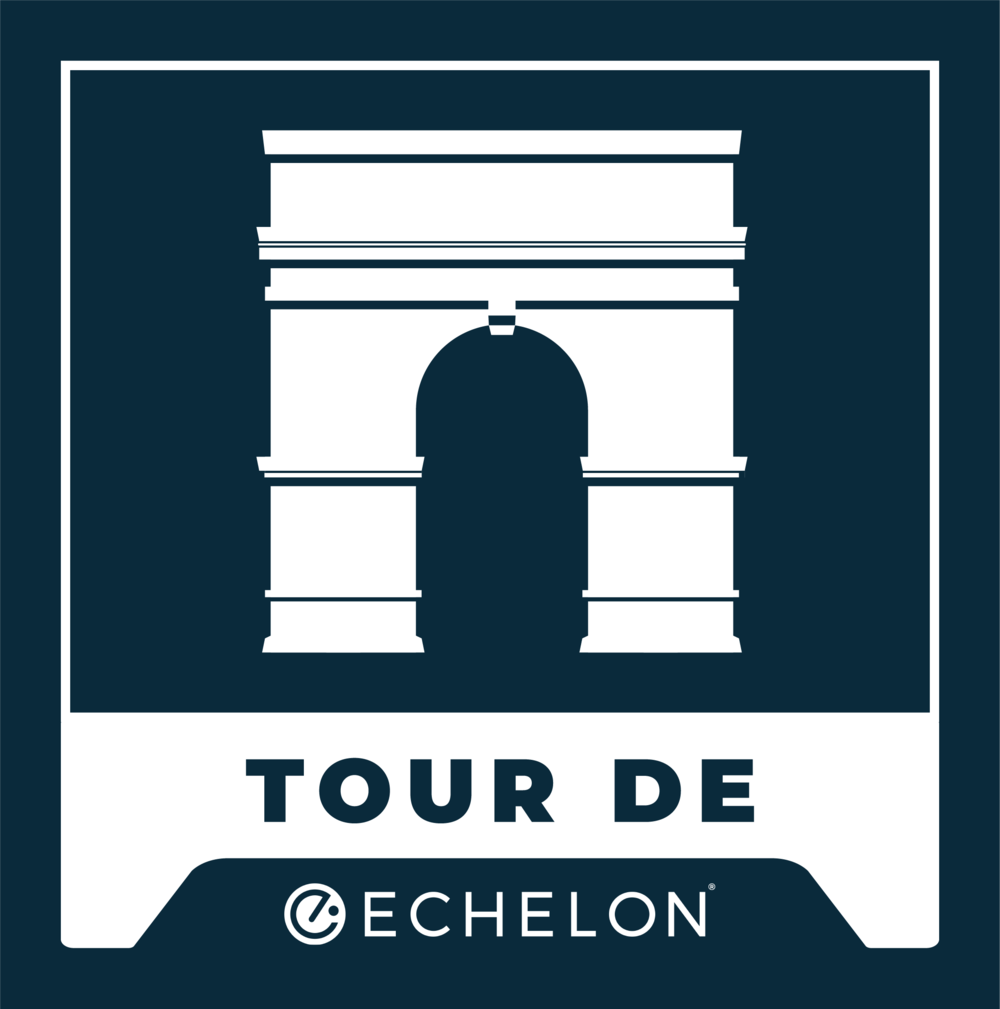 Starting June 26 for 23 days and 21 stages, our instructors will lead classes that are inspired by the terrain of the Tour de France 2021. Members will learn facts about the Tour de France, receive real-time race updates, and hear commentary about the different regions in France—from the hills of Brittany, the steep climbs of Mont Ventouz, and a final sprint to the Champs-Élysées.
Whether you are passionate about this iconic cycling event, simply curious about the sport, or just looking for a new way to challenge yourself, these classes are the perfect complement to your fitness routine.
The schedule is below, so mark your calendars, and we'll see you on the Leaderboard!
Stage 1
Saturday, June 26  - Now Available On-Demand
Hills 45 - TDE Stage 1 with Jama
Stage 2
Sunday, June 27 - Now Available On-Demand
Hills 30 - TDE Stage 2 with Sam
Stage 3
Monday, June 28 - Now Available On-Demand
Endurance 45 - TDE Stage 3 with Brian
Stage 4
Tuesday, June 29  - Now Available On-Demand
Speed 30 - TDE Stage 4 with Marsha
Stage 5
Wednesday, June 30  - Now Available On-Demand
Speed 20 - TDE Stage 5 with Dani
Stage 6
Thursday, July 1  - Now Available On-Demand
Speed 30 - TDE Stage 6 with Jama
Stage 7
Friday, July 2  - Now Available On-Demand
Endurance 75 - TDE Stage 7 with Brian
Stage 8
Saturday, July 3  - Now Available On-Demand
Hills 45 - TDE Stage 8 with Jama
Stage 9
Sunday, July 4  - Now Available On-Demand
Hills 30 - TDE Stage 9 with Brian
Rest Day
Monday, July 5 
Stage 10
Tuesday, July 6  - Now Available On-Demand
Speed 30 - TDE Stage 10 with Dani
Stage 11
Wednesday, July 7  - Now Available On-Demand
Hills 30 - TDE Stage 11 with Jama 
Stage 12
Thursday, July 8  - Now Available On-Demand
Speed 30 - TDE Stage 12 with Jama 
Stage 13
Friday, July 9  - Now Available On-Demand
Low Impact 30 - TDE Stage 13 with Dani
Stage 14
Saturday, July 10  - Now Available On-Demand
Hills 20 - TDE Stage 14 with Jama 
Stage 15
Sunday, July 11  - Now Available On-Demand
Hills 30 - TDE Stage 15 with Sam 
Rest Day
Monday, July 12 
Stage 16
Tuesday, July 13  - Now Available On-Demand
Hills 20 - TDE Stage 16 with Marsha
Stage 17
Wednesday, July 14  - Now Available On-Demand
Hills 30 - TDE Stage 17 with Jama
Stage 18
Thursday, July 15  - Now Available On-Demand
Speed 30 - TDE Stage 18 with Marsha 
Stage 19
Friday, July 16  - Now Available On-Demand
Endurance 60 - TDE Stage 19 with Dani
Stage 20
Saturday, July 17  - Now Available On-Demand
Speed 20 - TDE Stage 20 with Jama
Stage 21
Sunday, July 18  - Now Available On-Demand
Speed 30 - TDE Stage 21 with Dani